Case studies
What is a case study?
A case study is a detailed investigation of a project or plan used to demonstrate a common subject to further understanding. Click to see full list of case studies
How have the case studies been chosen?
Case studies have been chosen in order to illustrate the inclusion of sustainability into a project or plan. Generally the case studies have been selected where at least one tool has been used to assess sustainability. Case studies that have been chosen could be complete, ongoing or due to take place in the near future. They can be of a building, neighbourhood, city or regional scale.
Case studies have been selected from all different sectors of the built environment including energy, waste, water/sewage, transport, green/blue and projects that are holistic in nature.
The case studies currently included within the database have been chosen from the eight partner countries of the UK (Wales), Belgium, Denmark, Austria, France, Finland, The Netherlands and Bulgaria. These have been selected by experts in different areas including engineers, planners and architects.
The case studies within PETUS, by country and by sector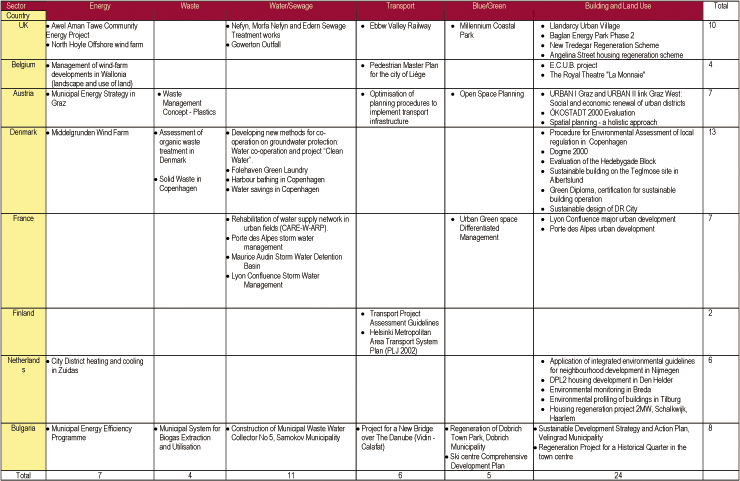 What can the case studies help you with?
The purpose of including case studies is to provide you with examples of projects or plans that are similar to those that you might be involved with. These can be used by you to see how others are dealing with sustainability from which you may be able to pick up some good ideas.
The case studies have enabled an investigation of the usefulness of tools in highlighting sustainability and its role in the decision making process.
How is the information presented?
When you click on the name of any of the case studies information is illustrated in two ways:
1. The project summary provides you with an overview of the case study including the country in which the case is located, the type of activity and a brief summary of the case study. Further information is then presented under the headings of

Project description – provides a description of the case study and the context in which it is set,

Opinion of tools – provides support for and barriers to using the tools within the case study

Application of tools – provides information about the individual tool/s that have been used in the case study, for example, where a tool is available from and who created it.

Decision making process – provides information about the decision making process that has taken place within the case study. This includes information about how the tool/s used have assisted the decision making process, whether the public have been involved in the case and how information about the case study has been disseminated.

Contact details – provides information about websites, references and contact details for people associated with the project.

2. By clicking on the full description .pdf file at the end of each case study the whole set of data collected about the case study can be viewed on one form. This format is best for printing.

A full list of case studies collected
Angelina Street housing regeneration scheme.
UK - Buildings & land use
Application of integrated environmental guidelines for neighbourhood development in Nijmegen
The Netherlands - Buildings & land use
Assessment of organic waste treatment in Denmark.
Denmark - Waste
Awel Aman Tawe Community Energy Project.
UK - Energy
ÖKOSTADT 2000 Evaluation
Austria - Buildings & land use
Baglan Energy Park Phase 2
UK - Buildings & land use
City District heating and cooling in Zuidas
The Netherlands - Energy
Construction of Municipal Waste Water Collector No 5, Samokov Municipality
Bulgaria - Water and Sewage
Developing new methods for co-operation on groundwater protection: Water co-operation and project "Clean Water".
Denmark - Water and Sewage
Dogme 2000
Denmark - Buildings & land use
DPL2 housing development in Den Helder
The Netherlands - Buildings & land use
E.C.U.B. project
Belgium - Buildings & land use
Ebbw Valley Railway
UK - Transport
Environmental monitoring in Breda
The Netherlands - Energy
Environmental profiling of buildings in Tilburg
The Netherlands - Buildings & land use
Evaluation of the Hedebygade Block
Denmark - Buildings & land use
Folehaven Green Laundry
Denmark - Water and Sewage
Gowerton Outfall
UK - Water and Sewage
Green Diploma, certification for sustainable building operation
Denmark - Buildings & land use
Harbour bathing in Copenhagen
Denmark - Water and Sewage
Helsinki Metropolitan Area Transport System Plan (PLJ 2002)
Finland - Transport
Housing regeneration project 2MW, Schalkwijk, Haarlem
The Netherlands - Energy
Llandarcy Urban Village
UK - Buildings & land use
Lyon Confluence major urban development
France - Buildings & land use
Lyon Confluence Storm Water Management
France - Water and Sewage
Management of wind-farm developments in Wallonia (landscape and use of land)
Belgium - Energy
Maurice Audin Storm Water Detention Basin
France - Water and Sewage
Middelgrunden offshore windfarm
Denmark - Energy
Millennium Coastal Park
UK - Green Blue
Municipal Energy Efficiency Programme, Municipality of Gabrovo
Bulgaria - Energy
Municipal System for Biogas Extraction and Utilisation
Bulgaria - Waste
Nefyn, Morfa Nefyn and Edern Sewage Treatment works
UK - Water and Sewage
New Tredegar Regeneration Scheme
UK - Buildings & land use
North Hoyle Offshore wind farm
UK - Energy
Open Space Planning
Austria - Green Blue
Optimisation of planning procedures to implement transport infrastructure
Austria - Transport
Pedestrian Master Plan for the city of Liege
Belgium - Transport
Porte des Alpes storm water management.
France - Water and Sewage
Porte des Alpes urban development
France - Buildings & land use
Procedure for Environmental Assessment of local regulation in Copenhagen
Denmark - Energy
Project for a New Bridge over The Danube (Vidin -Calafat)
Bulgaria - Transport
Regeneration of Dobrich Town Park, Dobrich Municipality
Bulgaria - Green Blue
Regeneration Project for a Historical Quarter in the town centre
Bulgaria - Buildings & land use
Rehabilitation of water supply network in urban fields (CARE-W-ARP)
France - Water and Sewage
Ski centre Comprehensive Development Plan
Bulgaria - Green Blue
Solid Waste in Copenhagen
Denmark - Waste
Spatial planning - a holistic approach
Austria - Buildings & land use
Sustainable building on the Teglmose site in Albertslund
Denmark - Buildings & land use
Sustainable design of DR City
Denmark - Buildings & land use
Sustainable Development Strategy and Action Plan, Velingrad Municipality
Bulgaria - Buildings & land use
The Royal Theatre "La Monnaie"
Belgium - Buildings & land use
Transport Project Assessment Guidelines
Finland - Transport
Urban Green space differentiated Management
France - Green Blue
URBAN I Graz and URBAN II link Graz West: Social and economic renewal of urban districts
Austria - Buildings & land use
Waste Management Concept - Plastics, in Graz
Austria - Waste
Water savings in Copenhagen
Denmark - Water and Sewage